Characteristic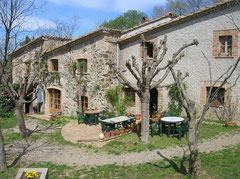 The Mas Serinyà is situated 10 km to south of Girona and 20 km of the Coast Brava (Sant Feliu of Guíxols, Calonge, Platja d'Aro). The water is of manantial and the swimming pool of salt water.
The house is familiar and adaptable to any person. Excursions to the mountain, to the sea, to Girona. The kitchen is Macrobiotic.
Reforms in the web in English, direct in the place web in Spanish.
More info click here!
+34 972 461 267  /  +34 658 789 710
masserinya@gmail.com